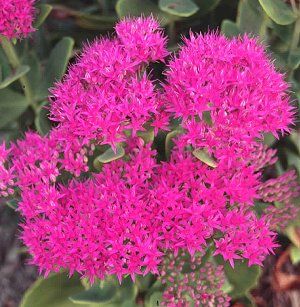 Sedum 'Neon'
| | |
| --- | --- |
| Common name | Stonecrop |
| Hardiness Zone | 3 - 9 |
| Sun | Full sun (only) |
| Soil | Dry to medium |
| Flower color | Rose pink |
| Bloom Time: | September - October |
| Height | 18 in. |

General Culture:
Easily grown in average, dry to medium wet, well-drained soil in full sun. Tolerates very light shade, but stems tend to topple over from the weight of the flower heads when grown in too much shade. Prefers well-drained soil, but does surprising well in heavy clay. Drought and heat tolerant, particularly once established.
Noteworthy Characteristics:
Sedum spectabile is an old-fashioned perennial with cabbage-like rosettes of succulent foliage throughout summer. Towards mid-summer, flat tightly-packed heads of green buds appear just above the foliage; these form a feature in their own right, and floral artists often cut them at this stage. In late summer the buds gradually open to reveal masses of tiny flowers, in this variety bright rose-magenta. They are highly attractive to butterflies, and several species can be found crowding over the flowers, making an additional attraction in the autumn garden.
Problems:
No serious insect or disease problems.
Uses:
Provides color and contrast to the border front or rock garden, when massed or planted in groups. Effective edging plant. Also has good specimen value.