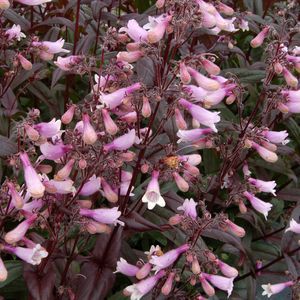 Penstemon digitalis 'Mystica'
| | |
| --- | --- |
| Common name | Beardtounge |
| Hardiness Zone | 4 to 8 |
| Sun | Full sun |
| Soil | Dry to medium moisture |
| Flower color | White |
| Bloom Time | April - June |
| Height | 2 to 2.5 feet |

General Culture:
Grow in average, dry to medium wet, well-drained soil in full sun. Needs full sun for best foliage color. Avoid wet, poorly-drained soils.
Noteworthy Characteristics:
These plants are about 28 to 30 inches high and nearly as wide. They attract butterflies and hummingbirds all summer, and require little care. A very hardy perennial, Mystica is a beauty of a plant, with large lavender-pink bloom clusters that really stand out against the charcoal-dark stems and foliage. In spring, the new leaves emerge bronze on this upright plant. In summer, they green out. Then in autumn, they blaze deep red!
Problems:
No serious insect or disease problems. Root rot can occur in wet, poorly-drained soils.
Uses:
Mass in sunny borders. Also effective as accent or specimen.