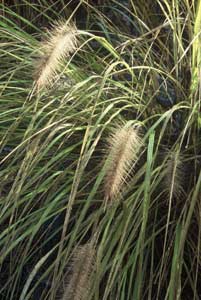 Pennisetum alopecuroides 'Hameln'
| | |
| --- | --- |
| Common name | Fountain grass |
| Hardiness Zone | 5 - 9 |
| Sun | Full sun - part shade |
| Soil | moist / rich |
| Flower color | Pinkish white |
| Bloom time | August - October |
| Height | 2 feet |
| Spread | 2 feet |
General Culture:
Easily grown in average, medium wet to wet soil in full sun to part shade. Best in full sun. Tolerates part shade, but may not flower in too much shade. Cut foliage to the ground in late winter before new shoots appear. Although Pennisetum often reseeds, it should be noted that this cultivar will not come true from seed.

Noteworthy Characteristics:
This fountain grass features arching, deep green foliage in an upright clump typically growing to 24" tall. Leaves are deep green in summer, changing to orange-bronze in fall and eventually to beige in late fall. Foliage usually remains attractive throughout the winter. Showy, silvery to pinkish-white, wheat-like flower spikes arch outward from the clump in late summer like water spraying from a fountain. Flower spikes turn brownish as the seed forms, and spikes persist until late fall or early winter before shattering. 'Hameln' is similar to the species, except the flower spikes of this cultivar are shorter and the plants are more compact.
Problems:
No serious insect or disease problems.
Uses:
Mass or group. Excellent specimen for smaller areas. Foliage and attractive flower spikes of this compact ornamental grass provide excellent texture, color and contrast to rock gardens, border fronts or small areas around the home. Also grows well in moist locations such as low spots, water gardens or on the banks of streams or ponds.