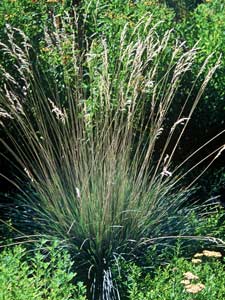 Helictotrichon sempervirens
| | |
| --- | --- |
| Common name | Blue oat grass |
| Hardiness Zone | 4 - 8 |
| Sun | full sun |
| Soil | Dry to medium moisture |
| Flower color | Bluish brown |
| Bloom time | June |
| Height | 2 to 3 feet |
| Spread | 2 feet |

General Culture:
Easily grown in average, dry to medium wet, well-drained soil in full sun. Best blue color in dry soils. Tolerates light shade, but does best in full sun locations. Remove withered leaves as they appear. Cut back foliage in late winter.

Noteworthy Characteristics:
Blue oat grass is a clump-forming, cool season, ornamental grass which typically grows 2-3' tall (foliage clump to 2' and flower stem brings total height to 3') with a similar spread. Features very narrow (3/8" wide), spiky, steel blue leaf blades (to 18") which form a rounded, porcupine-like clump. Resembles blue fescue (Festuca glauca), but is significantly larger. Spikelets of bluish-brown flowers arranged in open, one-sided panicles arching at the tip appear on erect stems rising well above the foliage clump in June. Flower spikelets mature to a golden wheat color by fall.
Problems:
No serious insect or disease problems. Rust may be a problem in humid climates.
Uses:
Specimen for the border or rock garden. Mass for ground cover. Effective foundation plant as an accent or in conjunction with dwarf blue spruces or junipers. Blue foliage contrasts well with pink flowering perennials and many spring bulbs.