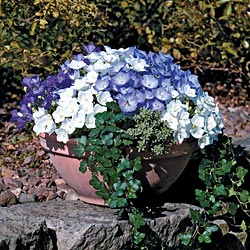 Campanula carpatica Pearl Mix
| | |
| --- | --- |
| Common name | Bellflower |
| Hardiness Zone | 3 - 8 |
| Sun | Full sun - part shade |
| Soil | moist / rich |
| Flower color | White, blue, deep blue |
| Height | 8" |

General Culture:
Easily grown in average, medium wet, well-drained soil in full sun to part shade. Prefers part shade in hot summer climates. Performs best with regular moisture. Benefits from a summer mulch which helps keep root zone cool. Deadheading spent blooms, though tedious, may extend bloom period. Cut plants back to basal growth if foliage depreciates in summer.
Noteworthy Characteristics:
Bellflower is a tufted perennial which typically forms low-growing clumps that slowly spread to form an attractive ground cover. 'Pearl mix' is a compact cultivar which grows to only 6-8" tall. Foliage is semi-evergreen to evergreen in warm winter climates. Species is native to the Carpathian Mountains in Europe.
Problems:
No serious insect or disease problems. Snails and slugs are occasional visitors.
Uses:
Rock gardens. Edging for paths or border fronts.