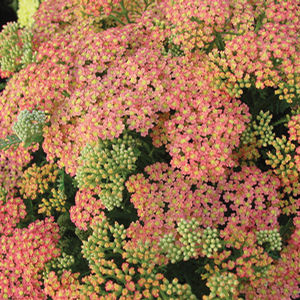 Achillea 'Peachy Seduction'
| | |
| --- | --- |
| Common name | Yarrow |
| Hardiness Zone | 4 - 8 |
| Sun | Full sun |
| Soil | dry to medium |
| Flower color | Peach pink |
| Height | 1 - 2' |
| Spread | 1 - 2' |
General Culture:
Best grown in dry to medium moisture, well-drained sandy loams in full sun. Does well in average garden soils and tolerates poor soils as long as drainage is good. Avoid heavy clays and moist, rich, fertile soils. Plants should be protected from strong winds. Deadhead spent flower heads to promote additional bloom. Stems of the compact 'Peachy Seduction' do not tend to flop as much as is the case with many of the taller A. millefolium cultivars. Cut plants back to basal leaves after flowering to tidy the planting and to encourage new foliage growth with a possible additional fall bloom.
Noteworthy Characteristics:
'Peachy Seduction' is a rhizomatous, spreading, upright yarrow cultivar that is noted for its bright peach-pink flowers, ferny aromatic foliage and compact size. Flowers appear in dense, flattened clusters over a long summer bloom period on compact stems rising to 18-24" tall.
Problems:
Strong summer rain storms with high winds can damage exposed plantings. If stems flop or become matted, they can be cut back. On the plus side, 'Peachy Seduction' has more compact stems and may be better able to deal with nasty summer weather than taller A. millefolium varieties.
Uses:
Specimen, group or mass. Borders. Cottage gardens. Good fresh cut or dried flower.